Enjoy the caps for episode 2x03, "Pearls Mean Tears," which contains probably
the
most triumphant Bertie moment captured on film when he finally get to tell the old nephew crusher where to get off. I've watched this episode I-don't-know-how-many times, and I still cheer like a fool at that scene. :)
Number:
2358
Cap size:
512 x 384 px
File size:
77 mb
File URL:
sendspace.com/file/kog0qd
(updated 1 Apr 2007)
Samples:
(click thumbnails for full-size)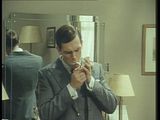 Jump in, Jeeves. You know you want to! Hiya,
skyblue_reverie
! This one's for you. :)
Salutations and happy Friday, dear friends! To celebrate the end of a hellacious week, come away with me to Westcombe-on-Sea. So much better for you than those nightclubs in London. And none of those bold girls like you'll find in the old metrop.