Also, we learn that we can slice him where we like, but a hellhound is always a hellhound. Good to know.
Number:
2932
Cap size:
512 x 384 px
File size:
86 mb
File URL:
sendspace.com/file/7qat50
(updated 1 Apr 2007)
Samples:
(click thumbnails for full-size)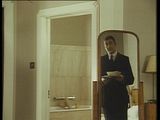 For
melchy
Mmmmmmm...bathi
ng Bertie!
Greetings, friends! Series 1 is complete; we now start on series 2. Here are caps from "Jeeves Saves the Cow Creamer," 2x01. Jeeves consults the Junior Ganymede club book, Berties scolds his ducky, Spode threatens to beat Bertie into a jelly, and Gussie cares for his newts. Eulalie!